Keep your Head Healthy
Our hair frames our face and makes us unique. It forms part of our personality and plays an important role in how we look and feel about ourselves. But scalp conditions such as dandruff can have a negative impact on our self-esteem and confidence.
More than 50% of the population will suffer from dandruff at some point in their lives and if you are one of those people you will know that it can be a stressful time. Aside from the discomfort caused by itchy skin, dandruff can also have a big impact on your self-esteem, confidence and fashion choices.
Many who suffer from dandruff avoid wearing dark coloured clothes or high neck jumpers that show up the white flakes of skin. The majority of those who suffer from dandruff address their symptoms with cosmetic products which only alleviate the symptoms and do not treat the root cause of dandruff or similar conditions such as seborrhoeic dermatitis.

The importance of scalp care
When it comes to a good skincare routine, many of us look after the skin on our faces, hands, feet and bodies, but what about our scalps? Scalp care is often neglected, but without it, you could be leaving yourself at risk of a dandruff outbreak.
Dandruff and seborrhoeic dermatitis can be triggered by a number of factors, but the cause is mainly Malassezia furfur. Malassezia furfur is a yeast-like fungus that lives on the skin of almost everyone without causing any problems.
Problems start when the fungus starts to overgrow. A concentration of Malassezia furfur of up to 46% is completely normal and will not likely cause any issues. It's when the fungus grows above this level and up to a concentration of 74% that it can cause dandruff. At more than 83% it can cause other skin conditions.
Triggers leading to Malassezia growth can include hormonal disorders or changes, dry skin, seasonal changes, sensitivity to harsh hair products and skin conditions such as eczema. Eating a healthy diet that is high in essential nutrients and vitamins contributes to keeping your skin and scalp healthy.
Have the confidence to wear whatever you want
Don't let dandruff restrict your fashion choices or your confidence and gain the freedom to wear whatever you want by treating your dandruff with a product you can rely on. Nizoral's medicated formula provides fast relief and delivers effective results in the treatment of dandruff from mild to severe cases.
Nizoral medicated shampoo contains the active ingredient ketoconazole to help kill the fungus that causes dandruff. Nizoral A-D Shampoo binds to the natural protein of your hair to keep it working between washes and prevent further outbreaks of dandruff. Use it just twice a week to finally say goodbye to dandruff.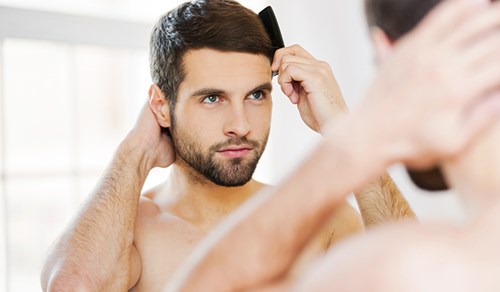 Say goodbye to dandruff with Nizoral
Get to the root of the problem and treat your dandruff with Nizoral for fast and effective relief from the symptoms and causes of dandruff. Regular use of Nizoral can:
● Treat the root cause of dandruff and relieve an itchy, irritated scalp and flaking skin
● Make dandruff a thing of the past and help you feel comfortable and confident in your skin and clothes
● Provide effective yet gentle hair and scalp cleansing that is suitable for all hair types
● Give long-lasting freedom from dandruff without having to give up your favourite beauty shampoo